When Intel unveiled its range of Arc A-series desktop graphics cards last year, it introduced four models: the Arc A770, Arc A750, Arc A580, and Arc A380. However, the Arc A580, which uses a cut-down ACM-G10 GPU, never reached the market for reasons that remain unclear. On Tuesday Intel finally fleshed out the Arc desktop lineup with a 500 series card, formally and immediately launching the Arc A580 graphics card.
Intel's Arc A580 is based on the Alchemist ACM-G10 graphics processor with 3072 stream processors and that is paired with 8 GB of memory using a 256-bit interface. While the the cut-down GPU has fewer SPs than its higher-performing counterparts, it retains all of the features that the Alchemist architecture has to offer, including world-class media playback capabilities, including hardware accelerated decoding and encoding in AV1, H.264, and H.265 formats.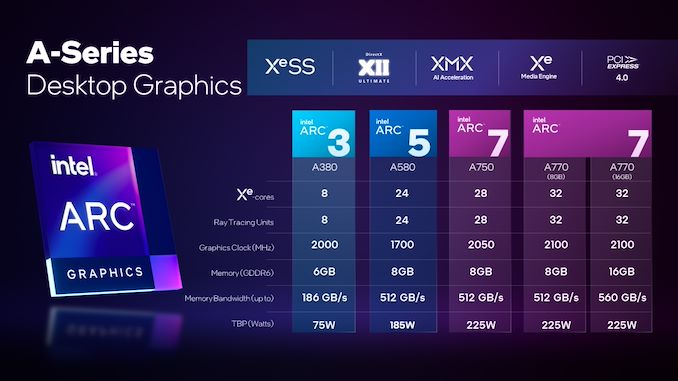 The card sits under the Arc A770 and Arc A750 in terms of performance, but above the Arc A380, thus targeting gamers in budget. Intel itself positions its Arc A580 for 1080p gaming against AMD's Radeon RX 6600 and NVIDIA's GeForce RTX 3050 graphics cards that have been available on the market for about two-and-a-half years.
When compared to its rivals, the Arc A580 has higher compute performance (10.445 FP32 TFLOPS vs. Radeon RX 6600's 9 FP32 TFLOPS and GeForce RTX 3050's 8 FP32 TFLOPS) as well as dramatically higher memory bandwidth (512 GB/s vs. 224 GB/s). Though as FLOPS are not everything, we'll have to see how benchmarks play out. The biggest advantage for Intel right now is going to be memory bandwidth, as Intel is shipping a card with a far wider memory bus than anything else in this class – something that AMD and NVIDIA shied away from after multiple cryptocurrency rushes and crashes.
But Intel's Arc A580 is more power hungry than its rivals: as this part is based on Intel's top-tier ACM-G10 GPU, it has the power consumption to match, with a total graphics power rating of 185W. Conversely, AMD's Radeon RX 6600 and NVIDIA's GeForce RTX 3050 are rated for 132W and 130W, respectively.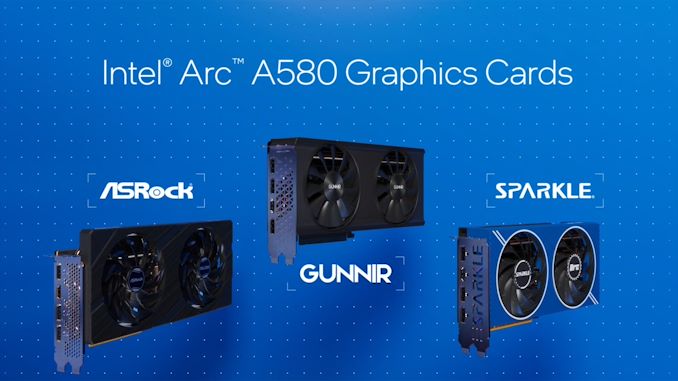 Graphics cards based on the Intel Arc A580 GPU are set to be offered by ASRock, Gunnir, and Sparkle, starting at $179. At $179, the boards are cheaper than AMD's Radeon RX 6600 ($199) and Nvidia's GeForce RTX 3050 ($199), which makes it quite a competitive offering. Meanwhile, Intel's higher-performing Arc A750 can now be obtained for $189 – $199, which somewhat reduces appeal of the new board – though it remains to be seen if those A750 prices will last.