Here's the latest update to our list of recommended AMD motherboards in our series of motherboard buyers guides. All numbers in the text are updated to reflect pricing at the time of writing.
Best AMD Motherboards: June 2022
It seems as though AMD has released its final set of processors for use with its highly successful AM4 platform, with the Ryzen 7 5800X3D being a fantastic swansong for AM4 by utilizing its 7 nm Vertical (V) Cache stacking technology. Since our last guide for May, AMD has announced that their Zen 4 core based on the 5 nm process will be launching later in the year during the Fall. Although there are still a good few months before the new AM5 platform and Ryzen 7000 series debuts, this doesn't help users building a new system for right now. 
The current platform and one that will be still in use is the AM4 platform, and we've taken a look at a number of different AM4 models over the last few years that caters to users of all levels, with the latest chipsets including both B550 and X570S catering mainly to the Ryzen 5000 series of processors. Time to take a look at our picks for users looking to build a Ryzen 5000-based desktop system in our AMD motherboard buyers guide for June 2022.
Looking for our best Intel motherboard choices? Head on over to our Intel Motherboard Buyers Guide instead!
AMD Motherboards Recommendations
June 2022
AnandTech
Motherboard
Amazon
Newegg
MSRP
Sweet Spot (Gaming)

MSI MPG B550 Gaming Edge WIFI

$190
$198
$200
Value Choice
ASRock B550 Phantom Gaming 4/AC
$146
$106*
$125
Mini-ITX
GIGABYTE B550I Aorus Pro AX
$190
$206
$200
Money No Object
EVGA X570 Dark
$550
$600
$690
*Available on back order, but is an amazing price if you're willing to wait a week or two for stock.
Our recommendations for motherboards are based entirely on my personal and professional opinion. 
For our June 2022 picks, we've considered updated pricing as well as availability in the US. Some of these models are slightly adjusting in stock levels and price, so we've adjusted our guide to accommodate this. It's also worth noting that B550 is generally considered the budget AM4 platform, but competitively it often has the more attractive pricing when compared to X570.
Another element is that many vendors have released new 'X570S' motherboards onto the market last year, with new features and passively cooled chipsets. These new models have been factored into the decision, but the benefits versus B550 in some cases don't always equate to better value, which is ultimately considered in ALL but our 'money no object' pick.
For users looking for other options, we've also gone over multiple chipset families as well in the links below.
Sweet Spot For Gaming
For our pick that represents what we think is the best sweet spot for gamers taking into account things like features, compatibility, and pricing, we've opted to go for a mid-ranged B550 model from MSI. The MSI MPG B550 Gaming Edge WIFI sits just below its premium B550 Gaming Carbon WIFI board but comes with a range of features such as 2.5 GbE, WI-Fi 6, and a decent Realtek ALC1200 HD audio codec.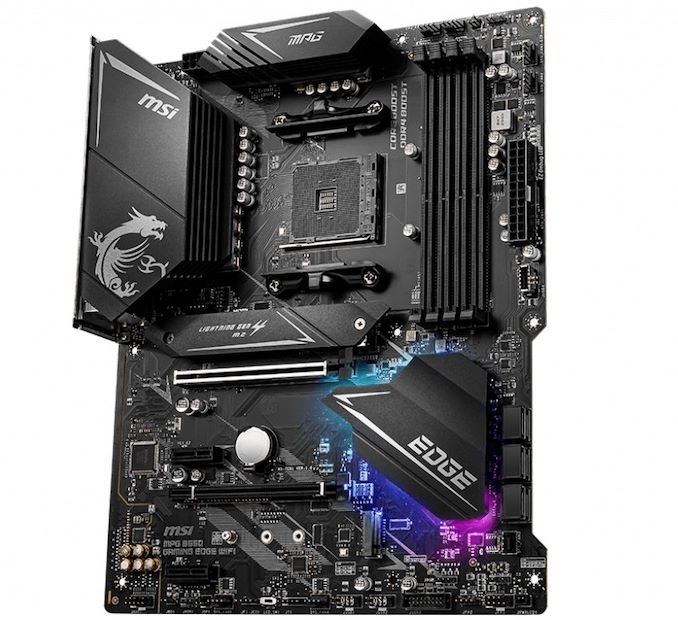 Looking at what makes the B550 Gaming Edge WIFI our pick for June, it has a simplistic black aesthetic with silver accents on the heatsinks, with integrated RGB LEDs within the chipset heatsink. There's plenty of PCIe expansion support with one full-length PCIe 4.0 x16 slot, a full-length PCIe 3.0 x4 slot, and two PCIe 3.0 x1 slots. For storage, the B550 Gaming Edge WIFI includes two M.2 slots with the top slot operating at PCIe 4.0 x4, and the second slot limited to PCIe 3.0 x4, while six SATA ports are present which support RAID 0, 1, and 10 arrays. MSI includes support for fast DDR4-5100 memory and allows users to install up to 128 GB of system memory across four memory slots.
The MSI MPG B550 Gaming Edge Wifi has an MSRP of $200 and represents its more mid-range AM4 series aimed at gamers. At present, Newegg is selling this model for $198, while it's currently cheaper at Amazon for $190. MSI has included some premium components including a Realtek RTL8125B 2.5 GbE Ethernet controller, with an Intel AX200 Wi-Fi 6 CNVi offering decent wireless networking compatibility, as well as support for BT 5.0 devices. Overall the MSI MPG B550 Gaming Edge WIFI has plenty of features to satisfy gamers, it features overclocking support with Ryzen 5000/3000 processors, and brings enough to the table to make it a solid option for gamers looking for a viable option for a new gaming system.
The Value Option
In previous guides, the value options have mostly been B450 models, due to B550 being more expensive, and sometimes a bit too much for true 'value.' However, the B450 range seems to be reducing in stock, causing prices to increase. So we've chosen the B550 Phantom Gaming 4/AC, which represents ASRock's entry-level gaming series as well as PCIe 4.0.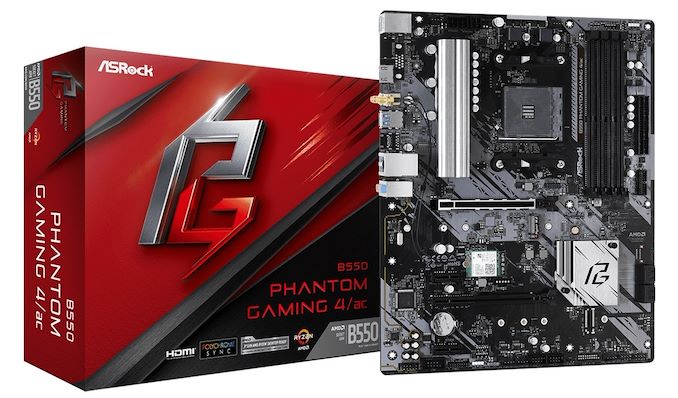 Even though it is one of the cheapest B550 boards, ASRock's B550 Phantom Gaming 4/AC offers a competitive entry-level feature set. The board comes with a PCIe 4.0 x4 M.2 slot and augments that with four SATA ports, which is plenty of capacity for game storage. The top full-length PCIe 4.0 slot operates at x16, while the bottom slot is locked to PCIe 3.0 x4, which is controlled by the chipset, along with two additional PCIe 3.0 x1 slots. For networking it is using a standard Realtek based Gigabit Ethernet controller, along with an Intel Wi-Fi 5 interface. This is pretty standard for an entry-level model that focuses more on overall support than adding extra cost at the expense of premium controllers. The B550 Phantom Gaming 4/AC is also using a Realtek ALC1200 HD audio codec but with just three 3.5 mm audio jacks on the rear panel and a basic 8-phase power delivery.
The ASRock B550 Phantom Gaming 4/AC is currently available for a great price at Newegg for $106, but it's currently on backorder. The current price at Amazon of $146 represents a shortage of stock, but as we typically find, these are replenished quite sporadically, so keep checking. Even at $106, this price makes it one of the best-value AM4 models currently on the market in terms of features, specification, and price. Looking at the bigger picture, most of the PG4/AC's competition comes from the cheaper selection of A520 boards with the majority of these based on the smaller micro-ATX form factor, with limited expansion options. Meanwhile, the biggest competition from the X570 product stack is arguably ASRock's own X570 Phantom Gaming 4S model, which is currently available at Newegg for $140. This offers better future-proofing and eight SATA ports, but it also includes only a single M.2 slot and doesn't have any wireless capabilities, so the B550 version gets our vote on price alone.
The pricing on this model at both Newegg and Amazon is fluctuating between $100 and $125 week by week, and it's currently on backorder for $106 at Newegg, so grab one while you can before it comes into stock with a potential price rise. Anyone who orders this model from Newegg won't be charged until the item arrives at their warehouse.
Mini-ITX Choice To Consider
There are an impressive array of Mini-ITX AMD boards to choose from. Our pick for the best mini-ITX motherboard at present remains unchanged, and that is GIGABYTE B550I Aorus Pro AX. The Aorus Pro AX represents a solid premium offering, with official PCIe 4.0 support, two M.2 slots, a Realtek 2.5 G Ethernet controller, and an Intel Wi-Fi 6 interface, all at a solid price point. 
You can read our full review here: 
The GIGABYTE B550I Aorus Pro AX Motherboard Review: All The Small Things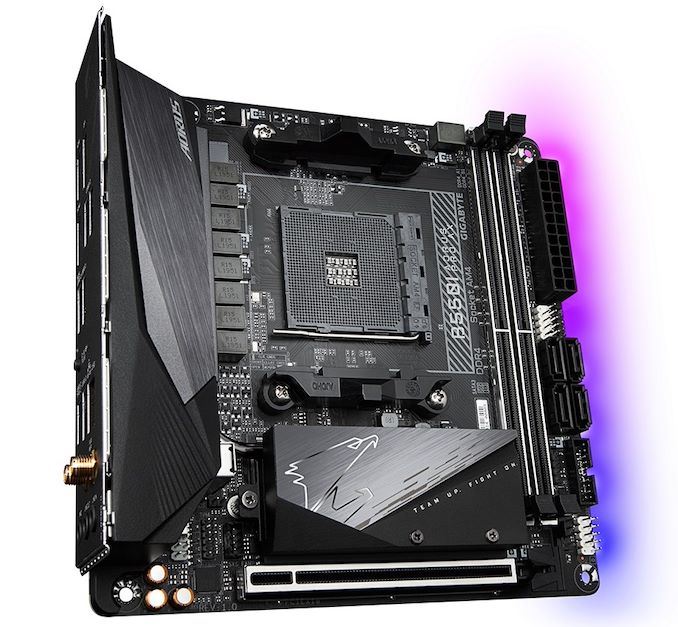 The GIGABYTE B550I Aorus Pro AX has four perpendicular SATA ports, one PCIe 4.0 x4 M.2 slot, and an additional PCIe 3.0 x4 M.2 slot with a full-length PCIe 4.0 x16 slot. In terms of power, the GIGABYTE B550I Aorus Pro AX has a direct 8-phase power delivery with eight premium Intersil ISL99390 90 A power stages and is controlled by an ISL229004 PWM controller. This is impressive not only for a mini-ITX motherboard but one designed for the 'budget' B550 chipset. 
Focusing on connectivity, this board has dual HDMI 2.0 outputs as well as DisplayPort 1.4, a single Realtek RTL8125BG 2.5 GbE controlled Ethernet port, and an Intel AX200 Wi-Fi 6 interface. There are also plenty of USB ports to make use of, with one USB 3.2 G2 Type-C, one USB 3.2 G2 Type-A, and four USB 3.2 G1 Type-A ports, as well as a handily located Q-Flash firmware update button. In an upgrade to supported memory for B550, the B550I Aorus Pro AX also supports up to DDR4-5300 memory.
The GIGABYTE B550I Aorus Pro AX has an MSRP of $200 and Newegg has it for $206 currently, while Amazon has it for $190 which is one of the cheapest prices this model has been listed at. Although the pricing on this model fluctuates week by week, we consider this board to represent good value for money between the $190 and $225 price mark, with stern competition from ASRock's $200 premium B550 ITX board or ASUS's also-$200 B550 mini-ITX offering. Out of all of the AM4 mini-ITX models on the market, some X570 models include Thunderbolt 3 – notably the ASRock X570 Phantom Gaming-ITX/TB3 – but it does cost more with an MSRP of $240. Overall the GIGABYTE B550I Aorus Pro AX is our top mini-ITX pick out of all the AMD AM4 models when taking quality, feature set, and pricing into consideration.
Money Is No Object
When it comes to my money no object pick from all of AMD's available motherboards, I've typically gone for flagships with oodles of features. Despite the distinct lack of 'value' in these selections, I've opted for a slightly different approach this time and gone for what I believe is the best performance X570 motherboard available at retail, and that's one of the latest, the EVGA X570 Dark. Not only did we recently review this board, but it completely exceeded our expectations in performance.
So what makes the EVGA X570 Dark so special? Well as we saw in our review, it breathes new life into the AMD Ryzen 5000 and X570 platform. Not only is it EVGA's first AMD-based motherboard for a very long time, but it did it in style with one of the most well-equipped models designed for pure performance. Touching on performance, it's very heavily geared up to extreme overclocking, with a transposed AM4 socket, an impressive overclocking toolkit, and a large 17-phase power delivery operating at 14+2+1. 
You can read our full review here:
The EVGA X570 Dark Motherboard Review: A Dark Beast For Ryzen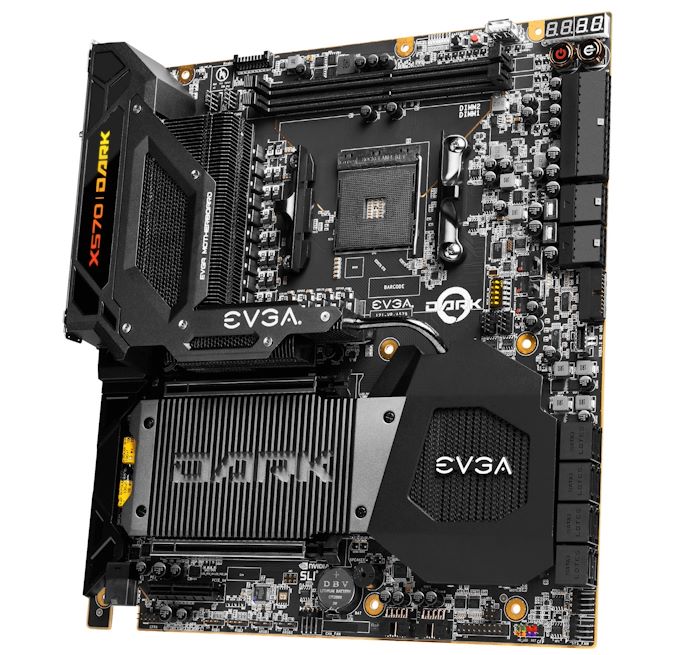 Memory support is interesting as EVGA is using just two slots which some users may find odd on an E-ATX sized motherboard. This is to enhance memory overclocking potential and performance, with shorter traces to the CPU socket for a theoretical reduction in latencies. The EVGA X570 Dark supports DDR4-4800 out of the box, with a combined capacity of up to 64 GB; more than most users will need for any desktop system.
Other features for everyone to benefit from includes dual Intel I225-V 2.5 GbE controllers and an Intel AX200 Wi-Fi 6 CNVi, which offers both wireless and BT 5.2 connectivity. The board also has plenty of support for PCIe 4.0 devices with two full-length PCIe 4.0 slots operating at x16 and x8/x8, with a half-length PCIe 4.0 x4 slot. Storage options include two PCIe 4.0 x4 M.2 slots, with eight SATA ports, six of which support AMD RAID 0, 1, and 10 arrays. Onboard audio is also premium with a Realtek ALC1220 HD audio codec doing the hard work, with an EVGA NU SV3H615 headphone amplifier adding an extra element of quality to a user's auditory experience.
Looking at rear panel connectivity, the EVGA X570 Dark has a modest selection of input and output, including one USB 3.2 G2 Type-C, four USB 3.2 G2 Type-A, and two USB 3.2 G1 Type-A ports. EVGA does include front panel headers if the rear panel options aren't enough, with one USB 3.2 G2 Type-C header (one port), two USB 3.2 G1 Type-A headers (four ports), and one USB 2.0 header (two ports). 
The EVGA X570 Dark is available direct from EVGA's website for $690, but it can be had at both Amazon and Newegg for cheaper which is great considering the performance of the board in our test suite, as well as all of that untapped potential available via overclocking. The X570 Dark managed to push our testbed Ryzen 7 3700X processor to 4.4 GHz all-cores, which is the only AM4 model we've reviewed that's managed to achieve this fairly comfortably.
One thing about this model is stock levels fluctuate on a weekly basis, and for users looking to create a Ryzen 5000 or 3000 series system with a focus on maximum performance, the EVGA X570 Dark is the best in its class. It's even available at the best price we've seen it on offer at Amazon for $554 and Newegg for $550, so if you're lucky enough to see one in stock and have the cash handy (as it is at the time of writing), grab it, as EVGA doesn't typically mass-produce its models as other vendors do.
Recent AMD Motherboard Reviews at AnandTech